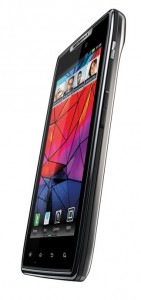 Verizon waited until 11-11-11 at 11:11 am to launch the Motorola Droid Razr. If that's not enough lucky ones for you, AmazonWireless has more. New Verizon customers can snag the Droid Razar for $111.11. Sorry, existing customers pay more — $229.99 for an individual account and $244.99 for family account. Verizon sells the smartphone for $299.99.
Droid Razr brings to seven the number of 4G LTE phones Verizon offers, with far greater national coverage than AT&T, which has just two LTE phones — HTC Vivid and Samsung Galaxy S II Skyrocket. The new smartphone also marks Motorola's attempts to capitalize on and revive the hugely successful Razr, while leveraging the still successful Droid brand. If you want one, that one-eleven-eleven price is hard to beat.
Droid Razr is thin, light and tough — 7.1 mm thick, 127 grams weight and steel and kevlar enclosure and Gorilla glass screen. Other specs: 4.3-inch Super AMOLED display (960 x 540 resolution); capacitive touchscreen; 1.2GHz processor; 1GB RAM; 32GB storage (with 16GB microSD card); 8-megapixel rear-facing and 1.3MP front-facing cameras; 1080p video capture; 1780 mAh battery; and Android 2.3.5.
By the specs, Droid Razr doesn't pack much more than many other Androids in its class. However, that Moto could squeeze such a large battery and LTE radio into such a thin smartphone is so bleeding edge, it's sure to cut competing handsets. Forget obtaining patents, Google has other very good reasons for buying Motorola Mobility; phones like Droid Razor are among them.
"This phone isn't just competing with other Android devices, it's crushing them", Jonathan Geller writes in his review for Boy Genius Report. "The Motorola Droid Razr has replaced Samsung's Galaxy S II as the best Android device I've ever used". Really? More the Galaxy S II Skyrocket? Oh dear, oh my.