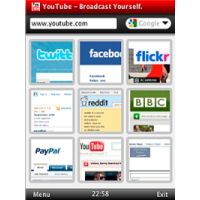 Opera Software today has released the first native version of Opera Mini 5 beta for Windows Mobile 5 and 6 devices. Since this version does not require Java support, like the beta released a little over six months ago, nearly any Windows Mobile device can install this one.
It is identical in most respects to the Java-based version released in beta late last year, with the Speed Dial homescreen, tabbed browsing, password management, and support for Opera Link, which unifies users' mobile bookmarks and features with those from their desktop Opera browsers.
On Windows Mobile 6.5 devices, this browser is practically indistinguishable from the Opera Mobile 10 beta, which was launched last November. The two products are identical in appearance and basic functionality.
The main differences between the versions can be found in their settings menus. Opera Mini has Opera Turbo server-side compression on at all times, and the user can select the quality of in-page images to alter the speed at which pages are loaded. Opera Mobile lets the user turn Opera Turbo on and off as needed and customize the level of zoom for page viewing.
Opera Turbo makes a significant impact on browsing speeds, and Opera Software claims it has the ability to compress traffic by up to 90%, which not only speeds up the experience, but lowers expenses on pay-per-megabyte data plans.
I tested the Opera Mini 5 beta for Windows Mobile 6.5 over a 2G EDGE connection and found the experience to be quite good. Though it doesn't provide as granular a zoom function as Opera Mobile 10 does, you can make due with the tiny zoomed-out mode to locate text or images you want to view in zoomed-in mode. As a desktop Opera user, I become more fond of Opera Link every time I test a new version of Mini or Mobile. All of my desktop shortcuts and bookmarks are instantly available whenever I install a new version, and there is an instant familiarity that vastly improves the experience.
While it does not offer the media support that Skyfire is so famous for on the Windows Mobile platform, Opera Mini 5 is quick, and the browsing experience is great. Though there are sometimes gesture mistakes, the browser is quite "finger friendly" even on resistive Windows Mobile devices.
You're not going to find it in the Windows Mobile Marketplace, though. So to download the new beta, point IE Mobile to m.opera.com/next.