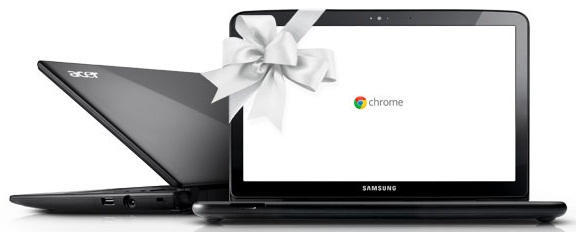 "Beginning this week Acer and Samsung Chromebooks will be available starting at $299", Googler Venkat Rapaka blogs today. Is that price low enough for you or perhaps as present for a relative? For $100 more than Kindle Fire, you get a keyboard, double the storage (16GB vs 8GB), similar cloud connected benefits, comparable battery life and bigger display. Well, I had to ask.
If you want to answer, fire off in comments. This is a serious question. Because there is a right price, one making Chromebook an appealing alternative to a new laptop or tablet. Before the price cuts, Acer and Sumsung models started at 349.99. Some commenter surely will claim price cuts are sure sign Chromebooks aren't selling well. Oh yeah? Consider this: Samsung is releasing a black Series 5 Chromebook (to go alongside grey and white ones) and prices fall for lots of reasons, such as economies of scale when products sell well, lower component prices or holiday prices. Reasons aside, is $299 low enough for you?
Amazon already lists the Acer AC700-1099 Chromebook for $299.99. Specs: 11.6-inch LED-backlit display (1366 x 768 resolution; 16:9 aspect ratio; Intel Atom N570 dual-core processor; 2GB DDR RAM; 16GB SSD; Graphics Media Accelerator 3150; 1.3MP HD Webcam with noise cancelling microphone; two USB 2.0 ports; 4-in-1 memory card slot; HDMI port; WiFi N; and Chrome OS. The Acer Chromebook is about the same size as MacBook Air and some Windows PC ultrabooks, but selling for $700 and $600-$700 less, respectively.
Chromebooks run Google's ChromeOS, which heavily relies on the cloud but not exclusively. Main benefits include:
Fast start-up (about 13 seconds)
Near instant recovery from sleep (about 1 second)
Ease of setup — just log into Google account — that's it
Long battery life, which for my Chromebook was 8 hours or more
I got a taste of this alternate computing universe when during August and September a Samsung Series 5 Chromebook was my primary PC early on and exclusive one for most of the two months. In early October, I gave up my Chromebook experiment, switching to the delightful (and considerably faster) Lenovo ThinkPad T420s. But others carry the torch. Ian Betteridge is near the end of his own 30-day Chromebook adventure.
My 70 year-old mom continues to use a Chromebook, for nearly four months now. I've heard no complaints, but no praise either. Her G5 iMac developed graphics problems. I couldn't afford to buy her a new Mac, and there was a spare Chromebook in my bedroom closet. I wouldn't have spent $449.99 on a Samsung Chromebook (price at the time) over a low-cost laptop. But I would consider $299.
BetaNews reader S. Deemer is a Chromebook user: "I travel a lot by motorcycle, and the Chromebook makes a perfect travelling companion, with long battery life and, for the odd time when no Wi-Fi is available, 3G data connectivity without paying extra for a monthly plan. I have never used up the entire 100mb monthly 3G data allocation".
Matt Plemmons is another, in September writing: "I have been using my chromebook exclusively for 3 months now. While there where some question marks in the beginning, frequent updates have remedied most buggyness and with the onset of offline Gmail, Calendar and Docs I see this product really blooming".
Commenter boby_k doesn't share the enthusiasm: "I have Chrome machine that Google sent me. I dont like the hardware and with 100MB plan, it is almost useless. I keep it in my car for occasional use. Wireless connection takes too long and is not ready when browser comes up most of the time".
Now the question comes back to you. Is $299 low enough for you to buy Chromebook? Please answer in comments.
Editor's Note: Kindle Fire memory corrected.