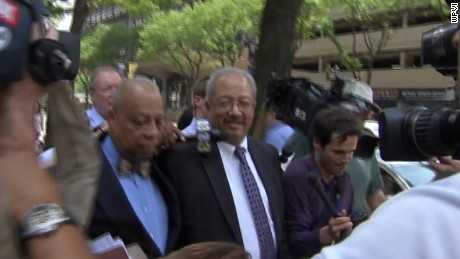 Washington (CNN)Chaka Fattah, a Pennsylvania Democratic congressman convicted on racketeering, money laundering and fraud charges, resigned Thursday rather than trying to stay in his position until October, as he previously sought.
Fattah this week was convicted on 23 federal corruption charges, and he told
House leadership on Wednesday
that he would only resign on October 3, the day before his sentencing. But leadership said Thursday that he will no longer try to remain.
"Serving in the Congress is a sacred public trust, and House Democrats believe we have a responsibility to uphold the highest standards of ethics and integrity," House Minority Leader Nancy Pelosi said in a statement Thursday. "His prompt resignation was the right thing to do for his constituents in light of the verdict against him."
Fattah's office did not immediately respond to a request for comment on the resignation.
Fattah, 59, was convicted Tuesday on racketeering, money laundering and fraud charges stemming from a scheme to repay an illegal $1 million loan through government contracts and non-profit organizations.
Read more: http://www.cnn.com/2016/06/23/politics/chaka-fattah-resigns-effective-immediately/index.html