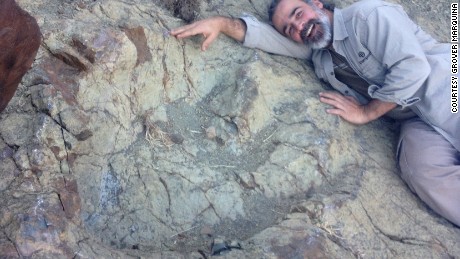 (CNN)There's a good chance that if flesh-eating dinosaurs were still around today, we wouldn't just have to worry about their sharp teeth.
Scientists recently uncovered a record-setting footprint in Bolivia. It is the biggest print from a carnivorous dinosaur to be discovered worldwide.
Until now, the largest track from a meat-eating dinosaur measured at 110 centimeters and was discovered in New Mexico, according to paleontologist Sebastian Apesteguia.
Grover Marquina, a tour guide, was trekking through the Maragua Crater about 65 kilometers (40 miles) from the capital Sucre when he stumbled upon the fossilized footprint on July 19. The indentation exceeds 115 centimeters — nearly 4 feet wide — Apesteguia told CNN.
Finding similar dinosaur prints in the region is fairly common, Apesteguia said. Fossilized footprints dating back to the early Cretaceous period have been unearthed across Bolivia, and smaller ones have been spotted in Chile, Brazil and Argentina as well.
In fact, scientists in January came across a footprint from the same carnivorous species that stretched 104 centimeters.
But the latest finding is still impressive because it's helping scientists further understand the landscape of our planet and the creatures who lived on it millions of years ago.
Read more: http://www.cnn.com/2016/07/29/world/dinosaur-footprint-discovered-bolivia-irpt/index.html