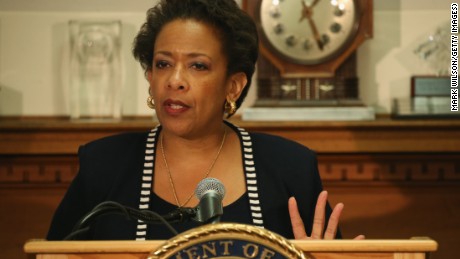 (CNN)Here is a look at the life of U.S. Attorney General Loretta Lynch.
Personal:
Birth date: May 21, 1959
Birth place: Greensboro, North Carolina
Birth name: Loretta Elizabeth Lynch
Father: Lorenzo Lynch, Baptist minister
Mother: Lorine (Harris) Lynch, school librarian
Marriage: Stephen Hargrove (2007-present)
Education: Harvard College, A.B., 1981; Harvard Law School, J.D., 1984
Other Facts:
Lynch is the first black female attorney general in U.S. history.
Served as a board member for the Federal Reserve Bank of New York.
Timeline:
1984-1990 – Litigation associate at New York law firm Cahill, Gordon & Reindel.
March 1990 – Becomes a trial prosecutor for the U.S. Attorney's office in the Eastern District of New York. The Eastern District includes Brooklyn, Queens, Staten Island and Long Island.
1994-1998 – Serves as chief of the Long Island office.
March 1998 – Becomes chief assistant to U.S. Attorney Zachary W. Carter.
1999 – Lynch serves on the trial team that prosecutes and convicts New York City police officers for violating the civil rights of Haitian immigrant Abner Louima.
January 2002 – Joins Hogan & Hartson LLP as a partner.
January 20, 2010 –
Nominated by
President Barack Obama
to be the U.S. Attorney for the Eastern District of New York, the job she previously held from 1999 to 2001.
April 22, 2010 – Lynch is unanimously confirmed by the Senate. She takes office on May 3, 2010.
Read more: http://www.cnn.com/2014/11/19/us/loretta-lynch-fast-facts/index.html