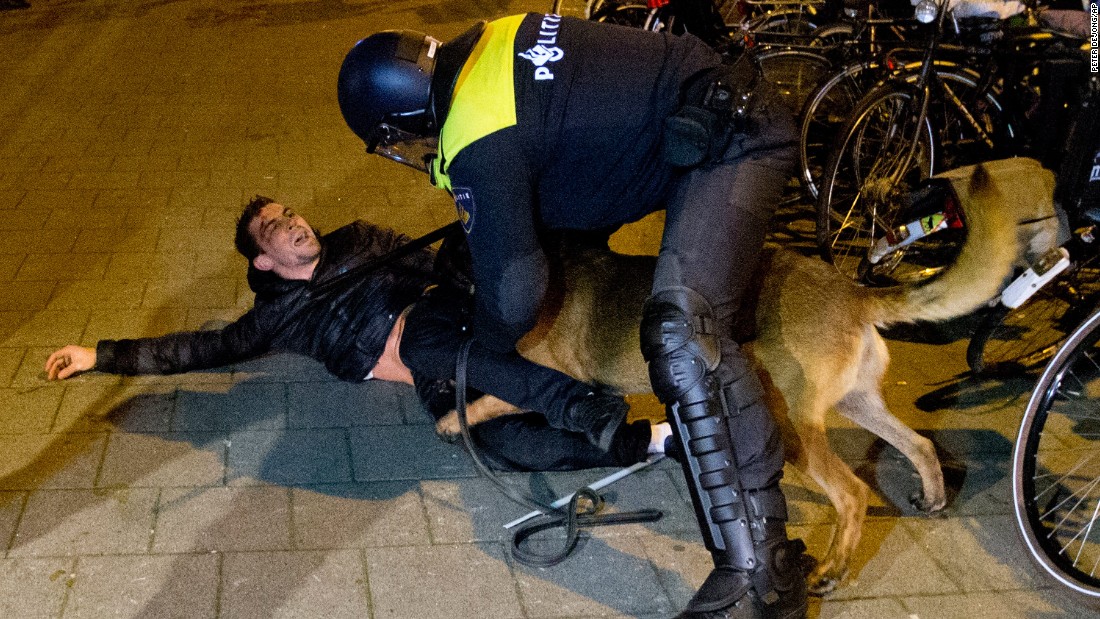 (CNN)Turkey will not allow the Dutch ambassador to Ankara to return to Turkey and has suspended high-level diplomatic relations between the two countries, deputy Turkish Prime Minister Numan Kurtulmus announced in Ankara on Monday as a disagreement between the two countries escalated.
Turkey's action came after the Netherlands' refusal to allow Turkey's foreign minister to visit for a political rally over the weekend.
That minister, Mevlut Cavusoglu, is demanding answers from the Dutch government over why they blocked him.
"Why this time am I a terrorist? Are the Turks living in this country terrorists?" Cavusoglu asked in an interview Monday with CNN's "Connect the World."
The decision to refuse Cavusoglu permission to fly to Rotterdam to address the rally over the weekend was followed by a refusal by the Dutch to let the Turkish family affairs minister, Fatma Betul Sayan Kayafrom, enter the Turkish consulate in the city.
She was escorted out of the country.
Violent clashes in Rotterdam followed the decision to halt the two ministers from addressing the rallies.
No explanation, minister complains
Cavusoglu said he had been given no explanation from the Dutch as to why they had public order and safety concerns over his visit, the reason they gave for blocking it.
"Is there any one single Turkish Turk radicalized? They say no. So what is the security problem then? They don't give me any detail, I am the foreign minister of Turkey. I am not a terrorist. This is just excuse, unfortunately, to hide the real reasons," he said.
On Monday, the Dutch issued travel advice via Twitter for Dutch citizens in Turkey telling them to "avoid demonstrations and be alert" amid the bitter row between the two countries.
But Cavusoglu said: "We will not target the Dutch people and we will not harm them because it is not their mistake. And the Dutch people are friends of Turkey and so many tourists are coming to Turkey and we have been friends for 400 years."
Read more: http://www.cnn.com/2017/03/13/europe/turkey-demands-apology/index.html