Couple were overcome by smoke outside their house in Kern County, where wildfire has destroyed at least 150 homes and burned nearly 47 square miles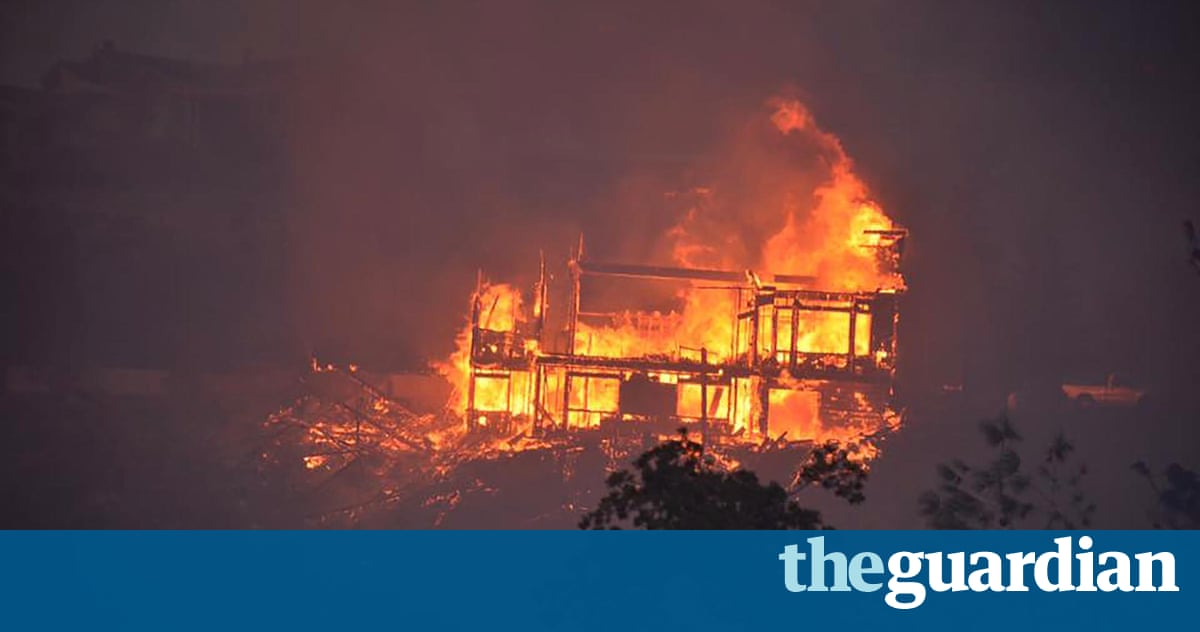 A California wildfire that killed two people has burned 150 homes and the toll may rise, firefighters said on Saturday.
Crews were busy counting the houses and mobile homes incinerated by the Kern County fire, which is raging through rural communities around Lake Isabella in the southern Sierra Nevada.
Whole blocks have burned to the ground as winds drive the flames through small foothill communities. By Saturday morning the fire, which began on Thursday, had burned some 56 square miles of tinder-dry brush and trees. More than 1,100 firefighters were on the line.
Evacuees who had spent days at a shelter were warned that it was unclear when they would be able to return to their homes. Some said they had learned from friends that their homes were gone.
The fire killed an elderly couple as they tried to flee, authorities said. The couple were outside their house when they were overcome with smoke, Kern County sheriff Donny Youngblood said at a Friday evening news conference on the fire that has burned nearly 47 square miles and forced the evacuation of 1,500 homes near Lake Isabella, a popular recreation area east of Bakersfield.
The names of the two dead were not released. The sheriff said his department had not been able to search very extensively and would be looking through burned homes with cadaver dogs seeking more possible victims.
David Klippel, 78, a retired police officer, said he had not seen much of a threat after receiving an automated call advising him to leave. That changed dramatically within an hour on Thursday afternoon.
Ive never been so close to a fast-moving, ferocious fire. It was unbelievable, said Klippel, who later learned his house had caught fire. I almost didnt have time to get out.
Neighborhoods of mobile homes were charred to their foundations. Gusty winds pushed the flames and smoke farther into drought-starved terrain. By Saturday morning, the fire was 5% contained.
The forces of nature collided with a spark, Kern County fire chief Brian Marshall said. The mountainous terrain, five years of drought and wind gusts of over 20mph all drove a fire over 11 miles in 13 hours.
The fire tore through small communities of houses and mobile homes that surround the lake actually a reservoir and the Kern river, a popular spot for fishing and whitewater rafting. The communities are in foothills of the Sierra Nevada, a mountain range that runs hundreds of miles north and south through eastern California.
Scorching heat and tinder-dry conditions across the west have contributed to massive wildfires that have destroyed properties and sent residents to seek shelter. Laura Rogers was one of those who thought she would never see her home or her brothers home again. Instead, she was lucky to find both standing in a neighborhood of mobile homes that was devastated.
I was sure this place was gone last night, Rogers said through tears. I mean look at this, I cant believe it. Its like a scary movie.
Dozens of other homes were gone, left in piles of charred sheet metal and cinderblock foundations. Scorched tricycles, air conditioners and TV dishes littered the landscape. Burned-out cars sat on tireless rims and leafless trees poked from barren, blackened dirt.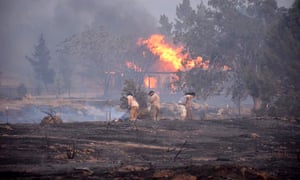 Read more: https://www.theguardian.com/us-news/2016/jun/25/california-wildfires-kern-county-elderly-couple-killed