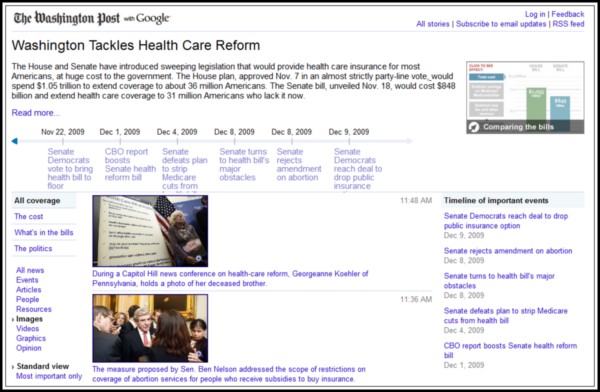 By Scott M. Fulton, III, Betanews
Exactly what online news should be or become is a subject that consumed the "blue sky" discussions among publishers since the late 1990s. Despite every concept they've ever created, tried or untried, what publishers typically end up with is either something that looks segmented and departmentalized like CNN.com or NYTimes.com, or is basically a blog whose scroll reveals a history of news, like it was printed on a roll of paper towels. Read more...
What is Google Wave? The latest from Google Labs, for now available only as a limited-distribution preview, Google Wave is—what? The ultimate collaboration tool? Really superior e-mail? The most ambitious (and confusing) web application ever created? These things and more, according to The Complete Guide to Google Wave.
The Guide itself is a free, ever-changing experiment in publishing that seeks to explain one of the most elaborate and bewildering Google inventions of all. Sample: Read more...